Current Affairs 2008
30.12.2008
A new diary entry and new dates are online.
08.12.2008
A new diary entry is online.
20.11.2008
A new diary entry is online.
13.11.2008, Jamies Newsletter:
Hi!
How's it going?
We only have one gig next week but so that there was something to write about they changed the name of the venue. The Essbar is now the Metropolis. Otherwise everything is the same!
So Thursday the 20th of Nov we are playing in the Essbar, eh the Metropolis. About 9 pm.
Oh, by the way, they broke into out tour bus in Sweden, but didn't steal any of our stuff. Just a crate of Beer. The bastards.
Cheers
Jamie
11.11.2008
A new diary entry is online.
03.11.2008
A new diary entry is online.
28.10.2008
A new diary entry is online.
23.10.2008
A new diary entry is online.
17.10.2008
We have a new date and a new diary entry.
14.10.2008
We have a new date and a new diary entry.
10.10.2008, Jamies Newsletter:
Hi!
Just a brief update!
The recordings are going really well. We are already on phase two â€" the mixing. Unfortunately work in the Studio is always so serious und there will be no silly pictures to be seen on the news page.
I only hope we can find a good company to release the album quickly. Maybe you will get a sneak preview on myspace.
But one step at a time!
We have a weekend of fun and games ahead of us!
The Obsessions have a Marathon gig in Rostock on Saturday the 11th of Oct.
Not literally a marathon this time, just a very, very long gig.
It will start at 4PM outside on the Doberanderplatz. At 9PM the "Vorstadttreiben" (www.vorstadttreiben.de) will continue inside in the Café Central .
The outdoor set will be for free, but you will need tickets for the evening.
Tonight (Friday the 10th of Oct.) The Rockhosue Brothes will be in Stade, in the Fiddlers Green. The beginning and end are always a bit flexible there, but it probably won't start before 9.30 PM!
I hope to see you soon!
Cheers
Jamie
09.10.2008
There are two gigs in Rostock on 11.10.2008!
04.10.2008
After beeing locked in the studio in Stockholm for the last couple of days, we are now able to proudly present the first idea for our new album cover: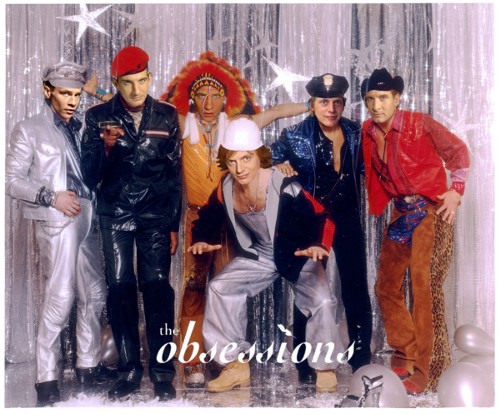 03.09.2008, Jamies Newsletter:
Hi!!
Finally the last minute has arrived. Time to write a news letter!
Especially for all of you that live far away, need a babysitter, have to take tomorrow off work, and form a carpool for the journey.
The Obessions are playing tonight in the Pooca, Hamburger Berg, at 10pm! Their last gig before they start recording in Stockholm in the legendary Decibel Studios.
Cheers
Jamie
28.08.2008
There is a new date.
07.08.2008
There is a new date.
05.08.2008
There is a new date.
11.07.2008, Jamies Newsletter:
Hi!
A quick reminder to everyone in the Munich area. The Obsessions are coming to you, for the first time ever. This Show Case is not only very important but also a great introduction to the Obsessions, if you haven't made the acquaintance yet. We're going to kick off at 9pm sharp and we're only playing one 30 min set. But we're gonna give it everything we've got! After that we've planned an extensive testing of the local beverages!
Best wishes
Jamie
08.07.2008
There is a new diary entry.
04.07.2008
We've got a new gig in Munich next week - your support is needed!
03.07.2008
There is a new date.
23.06.2008
There is a new date.
05.06.2008
There is a new date.
29.05.2008, Jamies Newsletter:
Hi!
Please excuse the confusion especially for cancelling the gig on Rügen so short Notice, it just wasn't possible to play there and on TV. As it stands we will be on breakfast television all week. We will play in the campus, Stralsund tonight nontheless. But we can only play till 11.00 PM cos we have to get back to Berlin in time. When will we sleep? That remains our little secret!
Hope to see you all Friday night in the Fiddlers Green, Stade for the Obsessions gig. Then we will play all night, as usual!
Cheers
Jamie
21.05.2008, Jamies Newsletter:
Hi!
Here's the plan:
25th of May, 19.00, sunshine:
We arrive at the Spielbudenplatz from Juist, well rested with our lungs still full of fresh north see air. The record companies are almost more overwhelmed by the sheer amount of screaming fans than by the inconceivable virtuosity of our performance.
21.00
The contracts are signed in blood (and sperm, but noone confesses)
22.00 the recordings of the legendary Obsessions album begin immediately and spontaneously as if no further preparation was needed!
But we do have a second plan. We called it plan B:
25th of May, 19.00, rain:
We all squeeze in to the Kukuun, really tight. The record companies are almost more overwhelmed by the sheer amount of screaming fans than by the inconceivable virtuosity of our performance.
21.00
The contracts are signed in blood (and sperm, but noone confesses)
22.00
The recordings of the legendary Obsessions album begin immediately and spontaneously as if no further preparation was needed!
Cheers,
Jamie
15.05.2008
Our support gigs in Hamburg and Cologne have been a great success!
Sold-out shows with the Hoosiers (really nice guys) and their charming fans...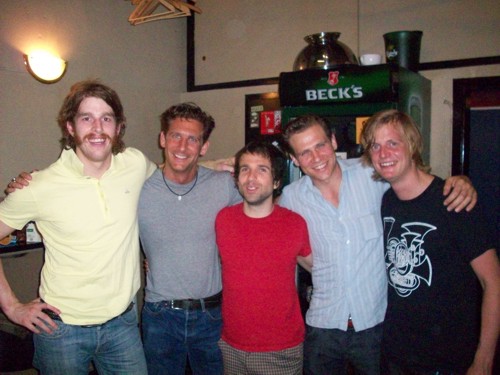 13.05.2008, Jamies Newsletter:
Hi!
Just a quick update!
The gigs with the Hoosiers were fantastic. They were sold out and full of Obsessions fans in the making. If we hadn't lost our pen and paper, we could have collected many, many new subscribers who would have been enjoying this very mail right now. But we did forget our pens and paper didn't we?! (hi hi, that'll teach' em!)
So, us insiders will meet on Friday 16th of May on the Spielbudenplatz from 7 till 9 pm to kick off the weekend with a mellow out door little busking thing.
Oh, and please write put the 25th of May down in your books. On that Sunday all the record companies will be there to check us out. This time they will be there.
See you there!
Cheers
Jamie
30.04.2008
The Obsessions will also play as the support for The Hoosiers in Cologne on 07.05.2008.
28.04.2008
We just got a brandnew, fresh and very exciting gig: On 03.05.2008 The Obsessions will play at the Uebel&Gefährlich as the support for The Hoosiers. Go there, watch and LISTEN!
24.04.2008
Due to Jamie's birthday, we have posted a new diary. Happy birthday!
18.04.2008
There is a new gig for tomorrow.
02.04.2008, Jamies Newsletter:
Hi
We're back! Straight from the jungle to the Reeperbahn.
Nam, The Hillbilly Hotdog, Saigon con Rock n Roll and the musical Pla-Tune "Vietnambipambi" will be published or even filmed at a later time and place.
But back to here and now!
The Obsessions, as you surely know, will be warming up in the Academy on the 14th of April. Last chance to practice the lyrics and/or the screaming before we really whoop it up on the 17th in the Pooca (Hamburger Berg 12). We have been sending our new recordings (you know the ones on myspace) to all kinds of record companies, publishers, concert agencies etc and are expecting to sign several multi-million dollar contracts along with the scores of autograph cards.
So, see you there I guess!
Cheers
Jamie
17.03.2008
Date changed for May!
05.03.2008
New dates for april and may!
04.03.2008
The Obsessions will be on a cruise now for almost two and a half weeks. This is their schedule:
Thurs., 03/06
Arrival at Phuket/Thailand
The COLUMBUS will be at the "Pearl of Andaman Sea". Magnificent beaches and bays invite you to a wonderful day which could take you to Phang Nga Bay and James Bond Island*. The long boats will take you through picture-book settings of chalk cliffs, mangrove forests and tiny islands, and of course you will see the finger of rock which was made famous by the film, "The Man with the Golden Gun".
Fri., 03/07
Penang/Malaysia, from 8:00 am to 6:00 pm
Penang's temples* are definitely worthy of reverence. The Temple of the 10,000 Buddhas, Kek Kok Si, is one of the most beautiful sacred sites in Malaysia, and the 33-m-long reclining Buddha of Wat Chaiya Mangkalaram also knows how to impress. The island panorama* gives you insights into the lives of the island inhabitants. Look forward to fluttering pleasure when you visit the butterfly farm.
Sat., 03/08
Kuala Lumpur
Transfer to embarkation on the COLUMBUS
Port Kelang (Kuala Lumpur)/Malaysia, departure 5:00 pm
Sun., 03/09
Relaxation at sea
Mon., 03/10
Kuching/Sarawak/Malaysia, from 1:00 to 7:00 pm
This was once the realm of the raja Charles Brooke, and the white colonial architecture is well preserved. During your tour, you will see the Sarawak Museum and Fort Margherita from this period as well as the colourful Chinese temple. If orang-utans are swinging down on lianas to the feeding station, then you are in the oldest jungle of the world. Visit the traditional long houses and orang-utans in the Semongoh Rehabilitation Centre. Or visit the Sarawak Museum Village.
Tue., 03/11
Relaxation at sea
Wed., 03/12
Kota Kinabalu/Sabah/Malaysia, from 8.00 am to 7.00 pm
More than a thousand species of orchids present their blooms in Kinabalu National Park. The UNESCO World Heritage Site is a paradise for botanists and is lorded over by Mount Kinabalu, the highest mountain in Southeast Asia at a height of more than 2,000 m. Our panorama trip impressions of Borneo will take you right within touching distance of life on the island. Travel along mangrove swamps, green fields and small villages.
Thurs., 03/13
Muara (Bandar Seri Begawan)/Brunei, from 8:00 am to 6:00 pm
The golden dome of the Sultan Omar Ali Saifuddin Mosque glints in the moonlight, and you prepare for Bandar Seri Begawan. 30,000 people live here in the pile-dwelling village in the Brunei River; their traditional houses are connected by a large number of wooden platforms and bridges. A unique site - as is the royal "Palace of Light".
Fri., 03/14
Relaxation at sea
Sat., 03/15
Nha Trang/Vietnam, from 8:00 am to 2:00 pm
Innumerable small boats from the fishing fleet greet you in the harbour. The sights of Nha Trang are the Institute for Oceanology and the Po Nagar Towers from the time of the Cham Culture. The tile buildings are among the most beautiful to be found anywhere in Vietnam. The white Buddha of the Long Son Pagoda is also magnificent. Alternatively, you can visit rural Nha Trang - a short trip back through time which will provide you with insights into the original character of Vietnam.
Sun., 03/16 - Mon., 03/17
Sunday Morning Trip on the Mekong, Southeast Asia's Lifeline
Ho Chi Minh City (Saigon)/Vietnam, arrival 9:00 am, until Mon, 4:00 pm
The churning life of Saigon will receive you during a city tour and take you to the Reunification Palace or the many Neo-Classical buildings. Things are very relaxed while travelling in the Mekong Delta. The small Asian paradise of innumerable rivers and channels is known as Vietnam's southernmost rice basket. Glide in boats through the lush, green vegetation.
Another highlight is waiting one day later: the overland excursion to Angkor Wat (subject to extra charge). You will fly to Cambodia and the major temple complexes of the Khmer in the middle of the rainforest. Construction on the impressive buildings began in 1113 at the command of the god-king Surjawarman II and they were created from artistically designed sandstones. The temples are ornamented with innumerable images of dancers, elephants and other symbols.
Tue., 03/18
Relaxation at sea
Wed., 03/19
Kampong Saom (Sihanoukville)/Cambodia, from 6:00 am to 9:00 pm
Re-embarkation from the overland excursion*.
After the idyllic small villages and rice paddies on the way to Phnom Penh, the busy traffic in the capital will seem quite wild to you. But marvellous places of peace and calm are waiting here, too: the royal palace with the valuable silver pagoda and the hill temple Wat Phom Daun Penh from the year 1373.
Thurs., 03/20
Relaxation at sea
Fri., 03/21
Singapore, arrival 2:00 pm
As you are sitting on the deck chair, the Singapore skyline slowly appears on the horizon - an impressive sight to which you can give more depth during the city tour. Whether during the cable car ride to the harbour, a walk through the botanical gardens or a stroll through Chinatown, the Lion City will thrill you. Overnight stay on board.
Sat., 03/22
Singapore
Transfer to a good middle-class hotel, room for the day,
transfer to scheduled flight to Germany
Sun., 03/23
Arrival in Germany
15.02.2008
There a slight changes on the CD and Audio/Video section. Furthermore the "Killer" has been caught and locked away...
12.02.2008, Jamies Newsletter
Hi!
So, here we are.
Hands up if you've seen us 100 times.
Ok, and hands down again.
There you go!
On Thursday, Valentines Day, the 14th of February, the day after tomorrow, on stage, at the Ministage, in the Pooca, on the Hamburger Berg, by the Reeperbahn, a beautiful street in the heart of the harbor town Hamburg, in the red light district, after the support band, before the after show party, to the great joy of all (- band members), THE OBSESSIONS will perform, despite the Echo awards in Berlin, at 11.00 PM sharp.
Besides us, some people from the industry, yes the music industry, have announced their appearance.
Will they really come? Better be there to find out. Better bring your friends
There you go!
Cheers
Jamie
05.02.2008
News: "KILLER" has been chosen as the soundtrack for the first podcast of the "Titel-Magazin" (literatur and more. Listen here www.titel-forum.de !
04.02.2008
The new songs from Sweden can be found under the audio/video sectin. Furthermore this website will be accompanied by a "killer", if you have installed the quicktime-player.
29.01.2008
A new diary is online.
24.01.2008
Tina from SoTi is celebrating her 29th birthday today. Happy birthday!
17.01.2008, Jamies Newsletter
Hi!
And a Happy New Year from me!
I'm afraid it has become somewhat of a tradition for me to write my New Years news letter towards the end of January and after many gigs. But it's not my fault! For example what was my laptop power supply thinking when it stayed at home for the first tour??? Of course my computer refused to work without electricity. What is this, an extended holiday or something? Well how am I supposed to work with a team like this!?
Bad computer. Bad, bad computer!
As Joe already noted in the guest book, we have 4 new songs in the mail to us. They should be on myspace and on our home page soon. We are looking forward to hear your opinion, but only if you love them! ;-)
Cheers
Jamie
14.01.2008, Joes Newsflash
Hi!
Back on the road after a weeks vacation with my family (I still have Caribbean sand in my shoes and the sound of crashing waves in my head). Speaking of waves, big thanks to everyone who came to our "Syltklinik" benefit gig in Birdland. It turned out to be much more successful than we dared to dream. I am curious to know what happened to the old shinny suits that we sold that night? Oversized pyjamas? An RHB cover-band?
If you are Obsessions fans, you will be happy to know that the 4 songs that we have been working on over the last few months are being mastered in Stockholm as I write, and we should have the finished recordings by the end of the week (Keep an eye on myspace for a preview). Unfortunately, we still have to work out how we are going to release them:( But I think it is safe to say that there will be a new Obsessions CD in 2008!
Cheers,
Joe
07.01.2008
A new date for January is online.
06.01.2008
The video from Balcony TV is online-
have a look here!happy and healthy new year 2008!