Diary 2007
06/12/07 St.Nicholas Day on Hamburger Berg, The Obsessions live at Pooca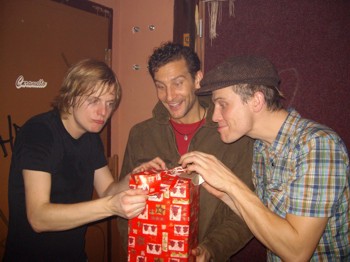 The night becomes the (St.Nicholas) day at MiNi-Stage tonight:
Three bands "live" - for the price of NONE!!
…and the occasional chocolate Father Christmas with your beer! Perfect.
We are opening the evening, at the same time concluding our first year of playing as "The Obsessions" (THANKS FOR YOUR FREQUENT SUPPORT!!). As a special treat, we are also premiering a brand new song: Joey's "Love makes an idiot of you" (You like that?! Send your feedback to wolfman@rockhousebrothers.de).
The atmosphere is great, the Pooca totally packed and we even have fans here from Stralsund and Cologne.
It's also great to see all three bands going down well with the audience - when some people may have just come to watch one of the bands (or by coincidence)!
After us, PAULUS play a long set with groovy, German funk and soul music. Complete with a sexy (male) lead singer and Prince-like falsetto vocals. Great stuff!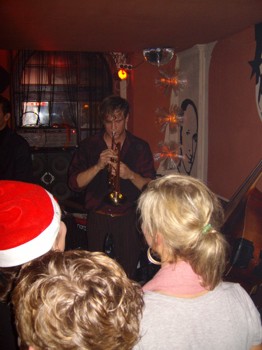 (Is this Christmas decoration dangling from the disco ball?!)
Duncan Townsend & THE DRUNKEN TOWNSMEN (I really have to giggle at this announcement!) round off a great party night. THANK YOU!

"Who's more big-headed?" - Two of my all-time favourite songwriters.
See you soon at a venue near you!
Cheers,
Wolfman :-)
(Photos by Din)
08/11/07 The Obsessions live at Pooca with Duncan Townsend & band
Tonight we are playing the "MiNi stage" again - this time at the Pooca (Hamburger Berg), its new home.
It's my first time here but some of our fans already know the venue: Jamie has played here with Duncan Townsend two weeks ago, as "A bit on the side". Duncan is also here tonight - with original songs and his new 4-piece band (electric guitar, keyboards, bass & drums) - appearing proud and maybe (a wee bit) excited:
During sound check he first asks Nicki (the organizer), then Jamie, Joey and finally me the very same question: "So, which band is going on first tonight?"
(OK, OK. On December 6th we will go on first.)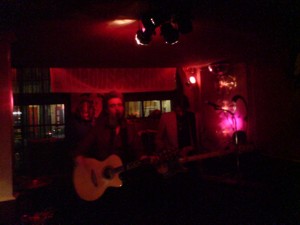 I especially like the opening number (which is repeated as a final encore) "Painted like a picture". It's one of my favourite Duncan songs anyway, now gift wrapped in a beautiful little arrangement.
Around midnight it's time for our gig, announced by a cheerful Joe (Jolly-Joe I shall start calling him) as "audience participation night" - and before we even reach the first chorus, he already has half the audience singing a-long.
I'm having a lot of fun tonight!
Modesty aside - sometimes (when we try really hard!) we can be quite an explosive little 3-piece.
As a special request, we have ALL our Reggae/Rock-Songs in the set this time - plus the Glockenspiel and the trumpet "glocking" and "trumpeteering" away!
In the breaks, Nicki (behind the laptop) puts on a cool and danceable mix of 'great music from Great Britain'. The Pooca has a very relaxed atmosphere, as if you just stumbled in from the street into the bands' rehearsal room, and your average "Hamburger Berg" customer is usually quite friendly.
At the high point of the evening Joe grabs a camera from the audience (Ahem…thanks Steffi!) and asks everyone to smile: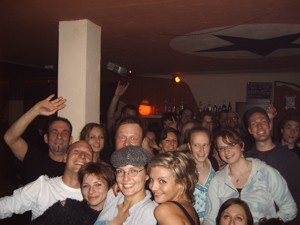 Who can spot the hidden Duncan?
Please mail to: wolfman@rockhousebrothers.de
We will need everybody's EMAIL ADRESS and exact position in the picture - so we can recreate it at a different location sometime!
(…and put YOU on our mailing list!!!)
Good night and see you again at Pooca, December 6th.
Wolfman

06/11/07 The Obsessions live at the Academy,
Hans-Albers-Platz, with Manuel and Duncan Townsend, 10 p.m.

Do you know Andy?
Well, Andy is a barman - a charming bloke from Manchester, often with a spiky, colourful haircut and always sporting a snappy one-liner on his T-shirt - and the heart and soul of the Academy.
And Andy loves music.
So much, he even managed to talk the owners of the Academy into letting him open up the pub on the one free night of every week, just so he can put on his "original song night". He even works for free sometimes.
That way - every Monday night - he gives musicians (example: the Rockhouse Brothers) who are being forced to play Sweet Home Alabama and Country Roads in front of a crowd of drunken tourists every weekend, a chance to present their very own songs. As a DJ he also puts on CDs by the bands and singer-songwriters who have been playing the place! God bless him.
But enough about Andy and more about us. ;-)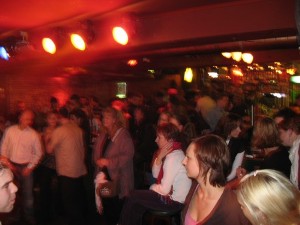 This morning my neighbour asked me to help towing his car to the garage.
Also, I have asked Joe - as a special treat for tonight - to only play the acoustic guitar (I always love it when he strums away in my apartment!). Jamie has joined in by leaving the electric bass and moog synthesizer in the bus and bringing his "Jazz double bass". And I have slimmed down my Setup and brought and even tinier bass drum than usual, one that doesn't have a hole in the front skin and goes "BOOOOOOM!"
My neighbour (also a musician, by the way) explained the following to me: The tow rope must be under tension at all times and it is better for the car being towed to do the braking while the towing car pushes the clutch. You definitely don't want to bump in to the towing car.
OK, OK. The link was supposed to be this:
Tonight behind the drums feels a little bit like this morning behind the wheel. I want to keep the tension in the music as much as possible but I also don't want to "bump into" and drown out the acoustic instruments from behind. Well, you know.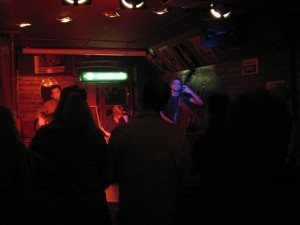 Do we really have to make every experience ourselves?
Surprisingly, the following comes to light tonight:
Acoustic guitars with a hole in the middle and bass drum skins without one tend to produce a great amount of feedback when you put a microphone in front of them and crank up the volume.
"Boooooom!"
Could THIS possibly be the reason why people started constructing electric, solid-body guitars and cutting holes into bass drum skins? Just a thought.
Apart from that, how did you (who were there) like the more acoustic direction? wolfman@rockhousebrothers.de
What's left to say (returning to diary style):
It's great that so many people are here tonight!
First Manuel (also known for Sweet Home Alabama etc.) introduces his German pop songs to the audience in a humorous way, as a duo with a second singer/guitar player. Then we play a few old ("Have you seen this man?", "Beautiful Babies") and newer songs that we believe fit the acoustic setting. Duncan Townsend finishes off the night (with occasional help from Jamie), showing that it is well possible to entertain a happy (and at that point drunk) pub crowd with original music…
THANK YOU ALL AGAIN for coming! And see you next time those of you who couldn't make it…
Later,
Wolfman

13/10/07 The Obsessions live at Café Central, Rostock
As a part of the Rostocker Vorstadttreiben - a yearly live music event with 19 bands in 19 different venues - we set up our gear at Café Central for the second time in a row. It's one of these cosy places where you should take your girlfriend for brunch on Sundays. The press have also realized this and made it their headquarters this year.
As the only band in the style of Rock/Pop (Is this REALLY our style? How about Desert-Pop? Weasel-Folk? If anyone has a good idea, please send a one-word email to wolfman@rockhousebrothers.de!), we are in the right place here. Last year we've had quite an attentive audience and many people stayed throughout the whole night. This time the OZ (Ostseezeitung) has written a nice article announcing us, even managing to explain our name-change from "PAY-TV" to "The Obsessions" in an intelligible way!
It's a good day to rock.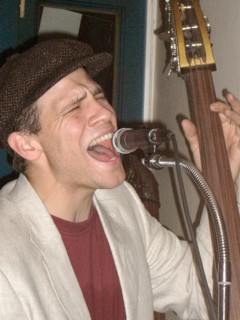 Only a hungry musician is a good musician.
We are playing four sets tonight, one at 21:00, 22:00, 23:00 and 00:00. This is a lot of music for the Obsessions who only play original material. Naturally the sound check takes ages - until 20:50. The sound technicians (US!) have simply been taking it too easy. This is exactly the moment where I regret only eating ONE buffalo mozzarella roll at Buffalo Station (Tankstelle Fuchsberg) three hours earlier. Well, looks like I may have to wait until after the last encore now…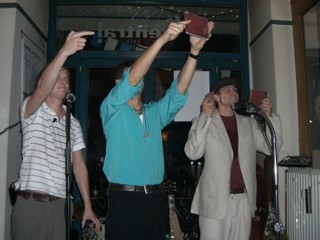 Although there is always a certain coming and going at music nights like this:
Thanks to our Rostock (and Stralsund and Ruegen) fans, it turns out to be a great night with a grand finale!
And afterwards, the Boerek from across the street simply tastes twice as good.
See you soon,
Wolfman
(Photos by Manja)
11/10/07 The Obsessions live at Mini-Stage, Jack Daniels Lounge,
with support Alin Coen, 10 p.m.
Following the good example of our first fan-club (www.rockhousesisters.net) - and especially web reporter Nina Thamm (www.ninawelt.de) who regularly writes coverage of our gigs in the form of blogs and articles - I sit down behind the old Underwood portable and start my own "reportsmanship" with a nice, long sentence.
Our gig tonight is part of the new series "MI-NI Stage" that MIrko and NIcki are going to present every Thursday from October 18th in the Jack Daniels Lounge(Thomas Read) and the Pooca Club on Hamburger Berg. The motto is: Singer-songwriters and bands play short, 20-minute sets with DJ/beer breaks in between.
At 10 p.m. Alin Coen - who has also supported us twice at the KNUST - kicks off things. Tonight she is playing as a duo with equally talented Australian cello player Tony (one of the high quality souvenirs that Alin has brought home from her year in Australia?)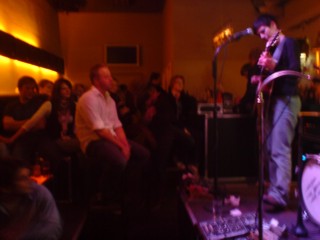 "Well, sometimes it can be so easy: Acoustic guitar, cello and a magical voice is all you need." I'm thinking while climbing up on stage, CAUTIOUS not to stumble over our 2 guitars, 2 double basses, 4-piece drum kit, Glockenspiel, Moog-synthesizer with bass pedal, microphone stands and various percussion instruments.
Our three sets are a colourful mix of 'old favourites' (Now and Again, Safety Line, Screw that/Monkey boy, Ordinary girl & co.), 'new favourites' (Collateral damage, What the woman wants etc.) plus a (Hamburg-) world premiere (at least in the scheduled 4/4 meter): Love's Great Illusion, brand-new und fresh out of Joey's pen.
The 20-minute sets are fun to play and give the night an overall air of something special happening. Thanks to our fans (singing along!) and our - in comparison to Alin - high volume, we even manage to drown out the odd drunkards who wander into the Lounge.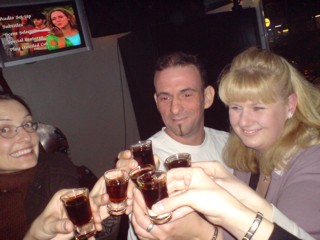 But NO! THIS is NOT one of them.
Nobert is merely the lucky winner of a Wolfman-sponsored shot of Jaegermeister. After all, he did manage to come to all 6 of our gigs on the Reeperbahn in a row!